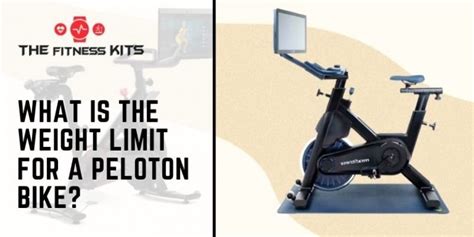 Apart from the technical advances in exercise equipment, the other most studied factor is the weight limit of the equipment. Most consumers who buy a Peloton treadmill or bike are trying to lose weight or be healthy; you have to make sure the equipment can hold us for safety reasons.
The Peloton Bike has a maximum weight of 297 lbs, while the Peloton Tread has a maximum weight of 300 lbs. The company's statement reads as follows: "The Peloton Bike has been tested for users with a height between 5'7″ and 5'8″ and a weight between 105 and 300 lb."
What does this weight limit mean for the consumer who is more than the tested weight recommendation? Is the Peloton only intended for small and medium sized consumers? What does this weight limit mean for the warranty if the size is exceeded? Read on to dive deeper.
Peloton Bike
Peloton bikes starting price is $1,495 and offers a 30 day in-home trial period. Still, even with a trial, that is a hefty price tag for a workout machine with a weight limit of 297 pounds. What if your weight is right on the weight limit or slightly over? Is it still safe to use? Is it worth the money?
The company claims that the Peloton bike is excellent for cardio and strength training, providing many classes to give you the overall perfect full-body workout.
Both the Peloton Bike and the Bike+ require users to be an age minimum of 14 years old, have user height recommendations of between 4'11" and 6'4", and have a weight limit of up to 297 pounds.
Can You Use The Bike if Exceeding the Maximum Weight?
If you use the Peloton bike and are over the maximum recommended size and weight range, then you will be:
A. Void of any potential warranty – due to the bike not being tested or recommended for users surpassing the weight recommendations.
B. Personally liable for any injury that could occur from using the bike at a size larger than recommended.
This does not mean that you will break the bike or get hurt if you use it at a large size; it simply means it is not recommended to do so due to not being tested for a more considerable weight variance.
Hopefully, newer models will increase their weight and size ranges to better associate the price tag.
Peloton Treads are excellent home gym additions as they state to have "a class for every day, a workout for every muscle." If you can add a Tread and a Bike to your home gym, your could quickly switch up your workout routine daily and not need any other gym equipment to help get you in the shape of your life.
Peloton Treads' starting price is $2,495 and offers monthly payment plans of $59 monthly. With speeds up to 12.5 mph and inclines up to 12.5% grade, you can surely get marathon ready in the comfort of your home.
The Tread does have a weight limit of 300 pounds, slightly higher than its bike sibling maxing out at 297 pounds. Similar to the bike, there are also age and height requirements; the age minimum for the Tread is 16 years, and the height range is 4'11" to 6'4".
Using the Peloton Tread Over Maximum Weight
When you walk into a gym setting and see the numerous bikes and treadmills available, you don't ponder the maximum weight of the machinery. Typically, users assume the equipment can withstand their size because otherwise, it should not be there.
However, when adding equipment to your home gym, it is better to be a bit more conscientious of the size recommendations since the machines should be catered to you personally. If you are over 300 lbs, then Peloton manufactured treadmills and bikes may not be the best choices for you.
However, can you still use them over the recommended weight and height limits? Technically, yes. Would you be voiding the warranty and liable for your safety on the machinery in doing so, also yes.
Is peloton for overweight people?
In this article, I wanna share with you if peloton is good for overweight beginners, and if so, which classes should you consider doing. As a whole, the peloton is good for overweight beginners because it includes a full range of low-intensity classes and programs that help to burn calories, without overtraining.
What size Mat do I need for peloton?
The Peloton Bike is 48-inches long and 24-inches wide, so you'll need a mat that's at least that size. But to ensure all the sweat that drips off your forehead hits the mat — not your carpet — opt for one that's more than 60-inches long, or the length of the bike from tip to tail.
Is peloton good for tall people?
You should not, however, give up on your search since we can help you out by discussing one of the models known as the peloton bike This bike provides room for people whose height ranges between 4′ 11″ and 6′ 8". Apart from accommodating most tall people, it also has some adjustable features that can boost your comfort level.